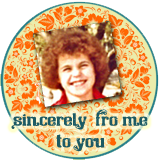 Sincerely 'Fro Me to You is here again!  Welcome! Grab the button and read the rules
here
.
Today, I thought I'd share a helpful tip. 
In our home, once October hits, time seems to quicken and there aren't enough hours in the day to get everything done.  And with Thanksgiving and Christmas close on it's heels, well, you know, life gets hectic. Even if we're working on
simplifying our lives.
Some of the best things I've learned have been from my kids.
They are smart, little people.
My son is the preoccupied type. He sets his mind to something and works it until completion. He studies his 'to do' list carefully and adds completed items only to cross them off.  
I don't know where he gets
that
from. 
I ran across this picture from a couple of years ago.  This is how you know you're too busy:
Fall, 2005, Grandparent's farm
When your pants fall down and you're too occupied to pull them up.
So, as autumn sets in and the holidays creep up, remember to slow down.
And remember the little things.
You're welcome.