*UPDATED* Congratulations to 3 Cookie Day! You just won an awesome book. Thanks for leaving questions/answers. I wish I had answers to all your questions. I am learning to accept my kid's natures more and to err on the side of grace.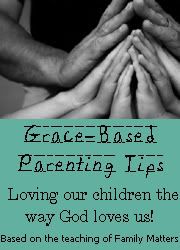 I've had some pretty tough jobs in my life.
I was a Children's Pastor for 8 years and it was challenging, especially since I wasn't a Mom and

I knew it all.

I sold sandwiches out of the back of my car for a catering company to make extra money.  It wasn't fun. I didn't even get free food. Just plenty of humiliation. 
But by far, parenting has been my most difficult job.
I love Dr. Tim Kimmel's Grace-Based Parenting books because besides sound Biblical teaching, there are practical answers to some really tough questions.  Family Matters has a question and answer page and I find it fascinating.  Here are some questions,

click on them for the answer

. 
This is what Grace-Based Parenting looks like:
Today, leave a question you'd like answered in the comment section or an answer to someone else's question and maybe we can help each other out!  You'll be entered to win the book, Raising Kids who Turn Out Right by Dr. Kimmel (please leave comments by Wednesday 10 pm (CST) and I will announce the winner on Thursday.



Raising Kids Who Turn Out Right
If you want to raise a kid who can stand strong in a hostile world, you have to build them from the inside out.

For more great tips, visit Works for Me Wednesday!