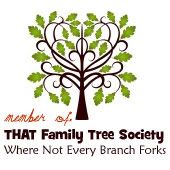 THAT family photo of the week:
The Week in Review: 
My toddler found the sprinkler that was trying to save a parched piece of grass in our backyard. She lost her clothes somewhere along the way.  It's been an exciting week at our house:  a broken clothes dryer, a broken sprinkler system, two doctor visits and an ant infestation.  I'm looking for the partridge in a pear tree.
I'd like you all to help me welcome Crystal of Life At the Circus to our sweet Society.  Crystal submitted this post as proof of her family tree, "What's up Doc?"
1. Tell us a little about your blog: 
I am Crystal and my blog name is Life At The Circus.  
My roles as wife, homemaker and mother of 3 feel much like a circus with 3 rings constantly vying for my attention. 

I blog for many reasons.  The main reason is because I desire to keep my life very real.  I want people to see me for what I am, a wife and mommy saved by God's grace and desiring to glorify Him with her life.  I do not have it all together nor do I want people to think I do.  On most nights my sink is full of dirty dishes and our laundry is typically sitting in the basket not folded and put away.  Blogging has provided me with an outlet I didn't know I needed.  I greatly enjoy writing about the humor I find in our everyday life and am ecstatic when someone cares enough to read about this chaos.  I enjoy reading and responding to the friends I have made in the great big "blogosphere."
2. How long have you been blogging? 
I have been blogging since March 31, 2008.   
3. How would you define THAT family?
THAT family is the family that people stare at when you are out in public, the ones who don't have it all together, the ones who make me sigh with relief and say, "Whew, it's not just me."  
4. When did you discover you were a part of THAT family?
I first realized I was a part of THAT family in October of 07 when we took our three kids on a cross country flight and camping trip in Ca.  As we waited in line in security with our then 3 mth old, 18 mth old, and 3 and 1/2 year old, I saw the looks on the people's faces in line... the ones that said, "please let them NOT be on my plane!"   Then when we boarded the plane and my baby had a blow out poop and my husband sat in the aisle changing her diaper while the nice lady beside him handed him baby wipes... it started to sink in a little more.  Later when we arrived at the airport with my naked child (b/c of course I didn't bring any spare clothes on my flight) and we sat in the baggage claim office filling out the paper work for our car seat that did not arrive in CA and I changed my baby on the floor of the office while my other two children ran around me in circles singing at the top of their lungs, it REALLY sank in.  Oh my, I thought "we are THAT family." 
5. Where can we find your blog?