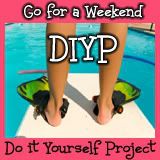 Project #1:  Birthday Platter
I'm not artistic.  But I'm a talented copier.  I saw personalized platters at a craft show.  And they cost a fortune.  I made one for my daughter's birthday.  I made one for her friend's party.  And I've been making them for teacher, retirement, baby shower and congratulations gifts.  I've even had people ask if I
take orders
.  And, no, I don't.
Buy a platter or plate.  I bought mine at Garden Ridge Pottery.  They were $1.  You can't beat that. 
You can use colored
Sharpees
, if this is going to be a keepsake item.  If you want to eat on the plate too, I suggest buying porcelain markers, they are a bit pricey, but they last forever.
Draw a cupcake (or something that signifies the occasion).  And don't say, "I can't do that."  It's really simple.  And we're going for whimsy here, so no two look alike.
The great thing about
Sharpees
is they wash off with
spit
water.  So, if you goof, just use your fingernail, scratch it off and start over.
Color in the cupcake.  Write Happy Birthday, personalize with a name and there you have it!
(Here's one I have waiting in my craft cabinet).
I like to wrap them in pretty tulle and attach a
Sharpee
marker for guests to sign the platter.  
You have an inexpensive fun present!  These are also great for anniversary gifts too!  Everyone just loves them because they are personalized and a
memento
 to remember the special occasion. To keep the ink on permanently, bake the plate/platter in the oven on 350 degrees for 10 minutes.
This is the finished project.  (This is one we gave to my daughter's friend).