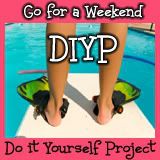 I'm a do-it-yourself kind of gal.

It's not that I'm an expert with a glue gun or a wiz on the sewing machine.
I like do-it-yourself projects because I'm cheap and I'm smart.
Yeah, that pretty much sums me up, 
at least the first part
.
My hubby and I were Pastor's for 10 years on one income, can you say  
'Oh, the miracles God wrought?
'  He did, my friend.  But we also learned the art of being frugal and creative.
I can't tell you how many times I'd see something I LOVED, only to hear my hubby say, "I can make that," or "We could totally do that ourselves."  It irritated me at first.  Because we didn't have the money to buy it, and this was my hubby's way of saying, 'no, you can't have it, but that's okay because we can do something better.'
And you know what?  We did. Time and time again.  My hubby has helped me with countless projects.  We became innovative and resourceful.
The amazing thing?  We could afford to buy some of those things now, but guess what?  Why buy it, when you can do-it-yourself?
I want to share some of the ideas with you every weekend.  I will share ideas I've actually tried or plan to try when I get the chance:  home decor, home improvements, gifts, kids items, and more!  
:Spoiler:  I'm not talking knock down the walls renovations, here.  We're just gonna get a little crafty.  But don't be afraid.  I will hold your hand.
So, the water's just right.  Do you want to go for a weekend DIYP (Do It Yourself Project)?
Join me tomorrow for the first one!