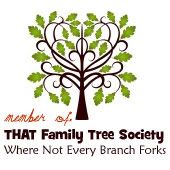 The Week in Review

: I'm so thankful we were able to keep ChaCha! We hit the jackpot with this sweet doggie!
1. Tell us a little about your blog (name/reason why you blog):
My blog is called Under $1000 Per Month. My husband is going back to school, as well as working with a reduced income. We've learned a lot about who we are and what is important to us, as well as a ton of money savings ideas, and that's what I blog about.  
2. How long have you blogging? 
About a year, but on this blog, only two months.

3.  How would you define THAT family? THAT family is unashamed of being a little different. We enjoy our lives and don't care who sees it.
4.    When did you discover you were a part of THAT family? 
I was taking a nap with my babies (aged one and three) the other day, pretty normal. I woke up alone,the apartment was silent. The first thing I saw as I entered the living room was a chewed up broken crayon. Then, the sight of chewed up toilet paper, all over the floor hit me. And we don't have a dog. My toddler had fed it to the baby! I knew that we were THAT family.