*UPDATE* Well, all you wild chicken fans, we have some winners! Congrats to Christi of
In His Step
, Christie O of
Baby Tea Leaves
and reader (no blog) Kate at 
kdmyzell@yahoo.com. 
So, when I was contacted about interviewing Food Network's Robin Miller about her new cookbook Robin Rescues Dinner
 and her Tyson partnership, I asked this burning question, "Does it include free chicken?"
Because I'm all about the yard bird.
Hiding from my kids in my backyard at 7:15 AM in my pajamas to interview a TV star, well, that was just a bonus.
I'm not much of a foodie blogger, but I was really intrigued by this new cookbook because Robin has filled it with nearly 400 recipes (52 weeks) that focus on healthy, easy family-friendly recipes. She also uses a lot of the Tyson Frozen Chicken and Beef Strips in her recipes in an effort to not heat up her oven in the summer. 
And if you haven't heard by now, it is hot in Texas. Our church
actually prayed
for rain on Sunday. And a rain dance my be next on the agenda.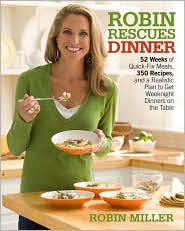 So, here's what I asked Robin:
  1.   How did you go from the Mom cooking at home to the Mom cooking on TV? 
"I didn't pursue it. I was on TV working for Family Circle magazine. I went from cranberry sauce, that I'd never made before on Tuesday, to making cookies with Al Roker on Sunday on The Today Show. Cooking came first and then my boys, who are 5 and 7 came next. So, my cooking style has changed. I used to carmelize and deglaze and spend hours in the kitchen. Now I try to get the same flavors in a shorter amount of time and that's why I write the way I do."
2.   Do you have a lot of no cook, oven-free recipes?
"Yes. I have full meals including desserts that don't require heating up the kitchen. There are so many ways to keep it cool in the kitchen and still have a healthy meal. I also like to use the early morning hours to boil rice and heat up the stove when it's still cool." 
3.   Do you have any healthy fun snack ideas for toddlers? 
"I try to think outside the box. I like to make sure my kids get a lot of protein throughout the day because my little boys are active. Why can't you have whole grain cereal as a snack after school or breakfast for dinner? If my kids are starving at 4:30 pm, I give them dinner and a snack at 7:00 pm. I love using Tyson's fully cooked chicken dipped in salsa or honey mustard. This is a great healthy snack. I like to make every snack count and not just feed them."
And because I couldn't resist:
4.  Have you had any THAT family moments in the kitchen?
"We are always THAT family. In WalMart or the Supermarket, my kids are the ones running around. We drop eggs on the floor, too. Kitchen disasters happen once a week. It's usually a spill or a mess. I like bringing my kids into the kitchen to cook with me. It's a bonding moment and they like to cook with me. I like to turn those THAT family moments into I'm proud to be THAT family moments. There's no shame."
Today, I'm giving away 3 of her brand new cookbooks. They are fabulous. Each winner will also got 3 coupons for bags of Tyson chicken or beef strips! (These coupons retail at $9.99
each
). Today's total giveaway value: $150 
That's a lot of chicken.
Just leave a comment and tell me how
you
keep your kitchen cool in the summer to be entered!
This giveaway will end on Thursday.