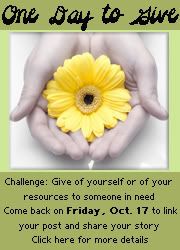 One Day to Give
is this Friday!  It's just a few days away, but you still have time to make a difference in someone's life!
It doesn't have to be BIG to be important.
Link up your post and share your
One Day to Give
project.  It will encourage. It will inspire. It will make a difference.  (I will be putting Mr. Linky up late Thursday evening).
One of my readers,
Shana
, emailed me about something special going on TODAY (Oct. 15): 
Blog Action Day
.  It is an invitation for bloggers to join together and blog about poverty. 
And since our families' One Day to Give project (that I'll be sharing on Friday), encompasses some very poor people, I thought I'd share this with you:
In Uzbekistan, where our friends from
The Persecuted Church
, escaped, poverty is rampant and it touches everyone.  Most families live on $50.00 per month. The rest of the people, survive on less.  Our sweet friends tried to explain just how poor the people are:
"In our country, when you visit neighbors and friends in their homes, you notice that there are switch plates and outlet covers missing. The faucet hardware and shower heads are gone too. Some people have no hardware in their homes at all. This is common. They sell everything 'extra'. These people have sold bits and pieces of their house in the open market, for food.  To feed their children. They know poverty very well."
I can't turn on my lights or plug something in without this image invading my thoughts.
Let's do something.  
Food for the Soul:

Psalm 140:12 "

I know that the LORD secures justice for the 

poor

 and upholds the cause of the needy."