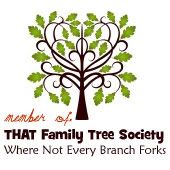 The Week in Review: We've had some great family time this week. And our new normal is getting more normal.  I snapped this picture of my hubby cracking his kids up with the 'cootie catcher' he made.  He's a well-rounded guy, I'm telling you.  Our toddler snuck up on the table to see what all the fun was about!  I'm just thankful she didn't end up in the ER with a concussion.  A THAT family moment,

missed

.

And now, I'm happy to introduce you to Lori of Tree Climbing Adventures, who suggested we all have matching society jackets.  I'm always about fashion, so count me in!  Lori submitted this post about their last camping trip.
1.
Tell us a little about your blog (name/reason why you blog):
The name of my blog, Tree Climbing Adventures, was inspired by the phrase "up in my tree". It's a phrase I use A LOT to describe my mental state.
2.
How long have you been blogging?
Only 3 months, but I'm hooked!
3.
How would you define THAT family?
THAT family defies logic and makes perfect sense at the same time. THAT family is a living example of the fact that God is both gracious and has the ultimate
sense of humor
.
4.
When did you discover you were a part of THAT family?
The first clue came when my dad drove the riding lawn mower into our swimming pool. Later clues would include wrecking both our cars in the same day in two different accidents and locking ourselves out of our first home the day we moved in. Good times.