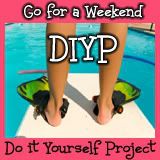 The family and I did a couple of really fun fall Do It Yourself Projects last weekend.  You could call it a weekend DIYP if you wanted to.
And get this, it's a NO SEW project! Yippee!
Here's what theirs looks like:
Adorable, huh? It would look especially lovely on the
porch of my dreams
.
I decided to make one a little-less
Halloweeny
and more
Fallish
.  (I'm all about creating new words today).
Here's ours:
The article above gives you the step by step instructions that I followed to make this NO-SEW, super easy bunting. But I'm providing you with fuzzy, pathetic pictures from my iPhone. 
Because I care (and because the battery on my camera needed to charge).
Step 1: Buy fabric, bias tape and stitch witchery.  I bought 1/3 yard of several
fallish
fabrics and spent a whopping $5.50!
Step 2: I made myself a little pennant pattern and pinned it to the fabric I doubled up. 
Step 3: I used pinking sheers to cut the triangles, so the fabric wouldn't unravel.
Step 4: I put the fabric in between the bias tape I ironed in half and stitch witchery. The stitch witchery adheres the fabric to the white bias tape when you iron it.  So, in the folds of the bias tape (that you've ironed in half) you layer stitch witchery, triangle fabric, stitch witchery.  
Step 5: And then I wrestled my hubby into helping me iron it.  My kids pulled the backing paper off the stitch witchery and set out the pattern of triangles.
I love the bunting on my stairwell! The total project cost less than $15!  Just think of how cute birthday banners would be with felt letters spelling out a name or Christmas pennants or Columbus Day!  Okay, maybe not Columbus Day...
The other day, in one of my parenting posts, I mentioned our
Blessing Box
, where we jot down all the blessings that come our way and then read them at Thanksgiving.
I bought some Thanksgiving stickers at Hobby Lobby and a small white cardboard box for .99 cents.
The inside of ours has a place to write, "I am thankful for..."
My kids have already added a couple of notes to the box.
I put one in that said, "I am so thankful for electricity after Hurricane Ike."
But I'm feeling mighty grateful today.  So, I think I'll add another. 
It will say, "sweet tea."
For more DIY projects, please visit
Kimba!