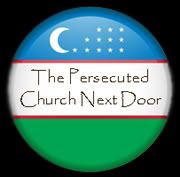 Last week we hung curtains together, laughed over homemade pizza, visited a church clothing-ministry, swam in my parent's pool and chatted on the phone.
My life has become slowly intertwined with those from The Persecuted Church. It is an adventurous road I never dreamed my family would travel. 
And yet every cell within me knows that
this
is right
.
There are only a handful of decisions in my life that I knew were right,
were my destiny
, the moment I made them:  going to Bible College instead of a traditional university, marrying my hubby, moving back to Texas, and befriending Russian refugees from The Persecuted Church.
It is in my nature to fix problems.  
I work my to-do list like a pro
.  I made a mental list of this family's needs and have determined to tackle them. The Church is more than just a building, it's made up of ordinary people like me and I can't wait around for others to act.  And many of you are helping...
And while my hubby and I feel compelled by God to help them, this persecuted family is changing me. 
When we moved into our current house three years ago, we moved from a very small rented townhome a few miles down the road.  That simple townhome was a step up from our deteriorating dwelling in Florida.
Our current home is nice.  I think it is beautiful and adequate and a gift from God. But in my town, it is considered a starter home.  Many people in this area live in houses 2-3 times the size.
It's funny how quickly you forget how far you've come.  In the past, when friends have visited, there have been moments where I've wished for a grander home.
The other day, Katerina was stopping by for a visit, for the first time.
And I was actually tempted to un-decorate my home. Because suddenly, I saw it thru her eyes.
My eyes were drawn to all my fussy, unecessary decorations.  I felt guilty thinking of her beautiful, but sparsely decorated home.  When I opened my closet full of clothes, I couldn't help but remember her one pair of shoes and 3 or 4 shirts.
We are supporting this family monthly and helping with some of their more urgent needs. (And on Friday, I met her at a Kid's Resale Clothing Sale and gave her the $125.00 from
your
Paypal
donations! A little more has come in since then and I'll give it to them this week).
But I'm struggling with balancing who I am and what I have with what I see in them.
When I look at this couple and their young children, I see one thing.
It's that simple.  It's that profound.
I can't explain it any other way.  We've sat around for hours listening to how they risked their lives to smuggle 500 Russian Bibles across armed checkpoints in Uzbekistan.  I've listened in awe as they shared that the bed they are now sleeping in, is the first real bed they have had in their 5 years of marriage.  
God is changing me.  I still love home decor and I know I can't change who I am and what I love. But my perspective is changing.  My wants and my needs are more defined. 
God is reminding me that my clothes dryer breaking this week and our sprinkler system coupled with a lower-than-expected paycheck aren't insurmountable problems.  I'm learning to let go of my tight-fisted grip on our bank account and I'm seeing my life through new perspective. I've been reminded that I have more than enough.
And what I don't have? Well, if I follow Igor and Katerina's lead, I don't have to worry about it. Because every time I see them, they weave these words into the conversation:  
"O
ur hope is in Jesus."   
And I think that's one reason they don't feel needy,
they feel blessed
.
Because He is enough.
Just yesterday, my daughter and I were talking about The Persecuted Church and she summed up how I feel:  "I'm glad Jesus chose us to help them."  But we both know, they aren't the only ones being helped.
If you'd like to help them too, please click below.
*UPDATE* $230.00 has come in TODAY! Plus many of the things are being scratched off the list below.  I'm going to speak with them about registering at a store...will let y'all know!
Thank you so much if you're able to give, if not, your prayers are just as valuable!
I asked them to share their prayer requests with us:
1) Pray that we can go forward for new victories in Christ and never live by our victories from past. 
2) Pray that Holy Spirit will guide us every day toward accomplishment of God's vision like in time of Paul. 
3) Pray that God will protect us from evil people and bad things. 
4) Pray for success in ministry of Revival Sport and Treasure House. 
Some of their personal needs:

(They attached this note, "
I will write a list of things, but of course we can live without them")
1) big rug for living room
2) the sets of spoon, forks, tea spoons and knifes.
4) clothes for children for fall-winter season. (2T, boys, 4T, girls)
5) adults shoes (man -8,5 women -6,5 size) for fall - winter season. 
6) vacuum cleaner
7) tools to fix car or other stuff