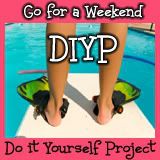 I love decorating my home. 
When I'm not on home decor probation, that is.
Probation entails periods of time where I need to lay low.
My hubby calls it staying on a budget.
Whatever.
Over the years, I've drawn from my frugal past and discovered that the joy for me is in the hunt. So when I hear the word
budget,
I actually hear the word
challenge
.
Here are some of my tips:
Paint covers a multitude of sins. But even paint can be costly.  I shop the paint returns at Lowe's, Home Depot and WalMart.  These are tints that weren't a perfect match and you can buy them really cheap. Perfect for bathrooms, laundry rooms and small bedrooms. I like to make a statement with paint, while not making a statement. In other words, choose a bold neutral (in the taupe family, maybe) rather than a dark maroon or navy blue.
Shop the scratch and dent section.  When we were shopping for our bedroom furniture, featured in yesterday's post, we looked everywhere!  Even after the initial sticker shock wore off, I was determined to find a deal. My hubby dragged me to Basset Furniture. I was reluctant because I knew it would be expensive, until I found the clearance room.  We bought it for 2/3 the price because there was a scratch and a missing knob (which I found in a drawer later!)
Don't be afraid to shop flea markets, thrift shops and even garage sales. Some of my best treasures are from other's hand-me downs.
Furniture doesn't have to match (and I actually prefer that it doesn't!) I like pairing a metal table next to a wooden bed or a wooden side table next to a metal bed.  Mix it up a little. The scratch and dent section only had one night stand. I found this little white side table at TJ Maxx for $34!
Don't buy department store bedding.  It's way overpriced and you can spend hundreds of dollars.  Instead, shop discount stores like Ross, TJ Maxx and Marshalls.  These stores offer high end items for very reasonable prices. I got my teal quilt and shams for $40!
Add bedding accessories as you go. Look at Target and even WalMart for coordinating fabric throw pillows. I like matching the same colors, but using different patterns.
Shop Ebay! I discovered 'local auctions' years ago. You can narrow your search to the amount of miles you're willing to travel and avoid pricey shipping charges.  A few years ago, I wanted a chair for our living room. Money was very tight, but so was seating.  I had $50 bucks.  I found this gorgeous leopard-print chair on Ebay and won the bid for the local auction for $40!  My hubby picked it up about 15 minutes from our house and it's still one of my favorite pieces.
Try something new. If you see an old door, make it a headboard. If you run across an old dresser, clean it up, remove the drawers and turn it into a buffet. Be creative.
Before you get rid of something you're tired of, try painting it.  Lately, I've fallen back in love with many of my tired pieces.  
Before:
After:
When you see fabric YOU LOVE on clearance or being sold in remnants, buy it!  Even if you don't know what to do with it. Little coordinating scraps of beautiful fabrics make great pillows, coasters, place mats, bulletin boards, and so much more. 

Decorate with plates. They are cheap and make a statement!
Don't be afraid to copy something you've seen.  I can't tell you how many things in my home came from ideas I've seen somewhere else. I saw window wreaths in a Pottery Barn magazine.  And the price tag was ridiculous.  So, I bought large candle rings in the holiday department of Garden Ridge, hung them on $1 ribbon and leave them up all the time.  

Just because I can.

About 85% of the stuff in my home is off the clearance/discounted aisle. My favorite place to shop is Target.  I love those little red stickers, especially after holidays.  I've bought things for 90% off, put it away and used it the following season.  (I also buy toys this way for birthday presents. Shhh!  don't tell).
When we evacuated from Hurricane Ike, we stopped at a Dallas Target for a few necessities. I couldn't pass this up: A plastic silhouette Cuckoo clock!
And yes, it bore the mark of the little red tag!  I got this clock for $11!  My hubby did raise his eyebrows when I used the word
necessity
. But once we got home and discovered that our beloved Target was badly damaged and will be closed for two months, he understood my sorrow.
Can we have a moment of silence for all the deals I'll miss?
Thank you.
So, you can stay on a budget, find frugal finds and have a lovely home.
That is all.