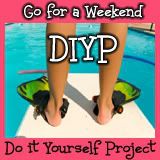 My toddler has discovered coloring. On the wall. The table.
The home, in general
.  Every time her siblings sit down to draw or do homework, she struggles to climb into an empty chair and join them. 
And since concussions run in the family, I decided we'd create a place for her to sit and color that was just her size.  I bought this little table at Ikea, but I've also seen them at Wal Mart and Target.
We added blue tape around the edges:
I grabbed my can of chalkboard paint.  I've rediscovered a love for this stuff!
And look, I got it on clearance!
Once the table was taped off, we painted the tabletop with the chalkboard paint.
My favorite thing about chalk is how easy it is to remove from furniture, walls, clothes, etc.
And as you can guess, she loves it!
Table for one, please!