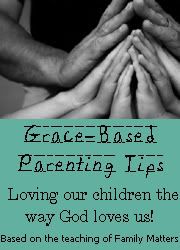 *Update* Congrats to
Tara
. I will email you!
A key element for raising great kids is establishing an atmosphere of grace in your home.
What is the atmosphere in your home?  Is it cold, harsh, rule-oriented?  Or is it wild, rule-free and chaotic? Grace-based parenting is the balance between grace and truth. 
I'll just give you a little hint about last night's atmosphere in our home:  
it starts with 'un- and ends with- ruly'.
A grace-based home creates an atmosphere that allows kids the freedom to be different, vulnerable, candid and to make mistakes (
Dr. Tim Kimmel
elaborates on each of these points in his book,
Grace Based Parenting
).
I heard Dr. Kimmel share the following story at
Family Camp
in describing vulnerability.  It really moved me:
"KIMMEL, TAKE OFF YOUR SHOES, leave on your socks, climb up on the trampoline, and follow my instructions," the coach instructed the 9th grade boy.
He quickly untied his shoes and climbed onto the trampoline for the demonstration.  As he did, he noticed holes in both of his socks.  It wasn't a big deal until a classmate yelled, "Check out the holes in Kimmel's socks! Hey, you want to borrow a pair of mine? I've got plenty. Or maybe we should take up a collection after class!"
"Knock it off!" the coach commanded, but the damage had already been done. The guys had a good laugh, and they continued to have a good laugh even after the coach told them to be quiet.
Tim Kimmel couldn't concentrate the rest of the class.  All he could think about was mending every sock he had as soon as he got home. The teasing had drawn attention to his family's economic status.  "We were a family on the lowest rung of the middle class..."
When class was over, the PE teacher dismissed the kids and Tim put his shoes back on.  On his way out, the PE teacher called his name.  "Tim, I wanted to tell you why I called on you to do that demonstration in class today. It's because I think you're the most agile student in my class."  Then he untied one of his shoes and pulled it off, to reveal two of his toes poking thru a large hole.  "Us agile guys are tough on socks!"
As Tim walked away, he found a dictionary and looked up the word agile:  "moves with speed, ease, elegance and liveliness; mentally alert and quick-witted." 

This changed his life. (He wondered if the coach had acutally cut those holes in his socks to show him it was okay to be vulnerable).
Grace-Based parenting says we need to give our children the freedom to be different.  They need the freedom to be vulnerable and we need to extend grace to them when they are vulnerable. Our children need the freedom to be candid and the liberty to make mistakes.
I love this quote from the book:  
You have been singled out to do a favor for God. He is asking you to be His representative to a small but vital part of the next generation. He needs someone to be His voice, His arms, and His heart. 
We are learning what this looks like in our home.  Allowing our kids to be more candid in sharing their hearts (without being disrespectful) was the first step we made.  I'm also trying not to fix all my kids problems by letting them learn from their mistakes.  
(This is much harder for me then for them).
Letting my daughter be herself by not controlling her appearance is not easy for me.
(I'm thinking her teachers were wondering about her hair choices this morning)
. But I'm learning that she has unique style and just because it's different than what I would choose, doesn't make it wrong. 
And when we see them struggling with school issues or things at home
(like the nearly daily after-school meltdowns we've been experiencing)
, we try to remember their need for vulnerability and even attempt to make ourselves vulnerable by sharing our own struggles.
Most of all, we are still learning what a grace-based home looks like!
Today, I'm giving away the audio CD entitled, "Grace Based Parenting."  If you'd like to have it, please leave a comment. I will choose a winner by 10 pm (CST) Wednesday night.