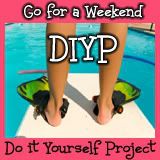 A couple of weeks ago, I shared with you how I feel about laundry.
My hubby agreed that a happier laundry atmosphere might help me fall in love with doing laundry.
Okay.
That is pushing it.
 But it couldn't hurt right?  I mean, look at this
before
photo:
Clothes would hang there until I ran out of room.  I wasn't exactly inspired, ya know?
I saw this
amazing idea
at The Nesting Place of putting a counter on top of the washer and dryer. (My laundry room is small, so my hubby attached the 'counter' to the walls to make a
faux
box around my washer and dryer). And I'm so glad because I have an old drier, but a two year old washer (different brands) and they aren't level, so my stacks of laundry fall over!
I used a tension shower curtain rod to hang my
Walmart
window panels ($15 for both!)  
Since I deemed this a no-sew project, I got out my handy glue gun and glued the tabs up like a hem, since I hung the curtain upside down.  I stuck the rod
thru
the hem pocket.
My hubby even installed a little light, so I could see the controls on my washer/dryer.  (My hubby built the counter about six inches above, so I could reach in and turn it on.  I don't mind this little
inconvenience
because I love the look of it!)
I didn't like the boring cabinet, but this was a makeover on a shoestring budget, so we took the doors off and added baskets.
I shopped the house for the decor and painted the tiny room a yummy coffee color (off the discount rack at
Walmart
for $6 bucks).
And this is my favorite part:  My mini-mudroom. I saw this
here
, but needed it smaller so my backdoor would open (plus it cost about a bazillion more dollars than I have).  
Because I'm all about functioning
.
Since my laundry room doubles as my mudroom and my kids enter
thru
the garage, I wanted a shelf and cubbies for them to drop their backpacks and lunch boxes off.  I keep their socks in the little baskets on top (
thank you
,
Rocks In My Dryer's
Works for Me Wednesday).  My kids painted the chalkboard signs, so we can keep the baskets organized.
My hubby hired some helpers to build the little
cubby
from scratch:
Isn't he it gorgeous?
I painted it white.  Look how organized I am, and just in time for the first week of school!
Total Project Costs:
Wood for counter: $85
White Paint: $10
Room Paint: $6
Curtains & Rod: $25
Light: $10
Large jar for Soap: $15
Misc: hooks, nails, etc $25
Grand Total: $205.00
Effect on my current laundry mood?  
Priceless.
Make sure you check out some other awesome Before and After projects over at
Rhoda's
!