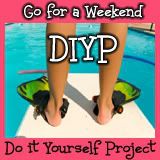 I love magazines.  I always have a giant pile next to my bed that I'm making my way through.

Some of my best DIY projects are things I've seen in decor magazines.  I tear out my favorite pages and stick it into a folder for inspiration later.
And you've been wondering who tore out magazine pages in the dentist's office? 
[sheepish wave in progress]
It's by far one of my favorite quarterly publications.  
I love fresh flowers.  I wish I could have a gorgeous vase full in every room.  All the time.

But I'm not THAT family, unfortunately. 
Every once in a while, my hubby brings home flowers.  *Hint, Hint*
And after holidays, like Valentine's and Mother's Day, I buy the half price bundles.  But most of my fresh flowers come from my flower beds or when my kids bring me weeds flowers with the stems wrapped in wet paper towels.
Now, here's what I do with them thanks to this great idea: I gather an empty toothbrush holder, a salt shaker or a cheese sprinkler.  
I can stick loose stems in the tiny holes.  These are perfect holders for little weeds or the fragrant Gardenias from my yard.
I just fell in love with this idea because I have these little containers on hand and they look so nice in the bathrooms and entryway.
So, go, pick a flower and grab an instant vase.
It's sure to brighten your day!