Happy
4th
of
July
from THAT Family...
you know the ones
!
Our fabulous neighbors who
Bake at 350
, brought patriotic cupcakes to our town's parade:
(click over and she'll tell you how she made them!)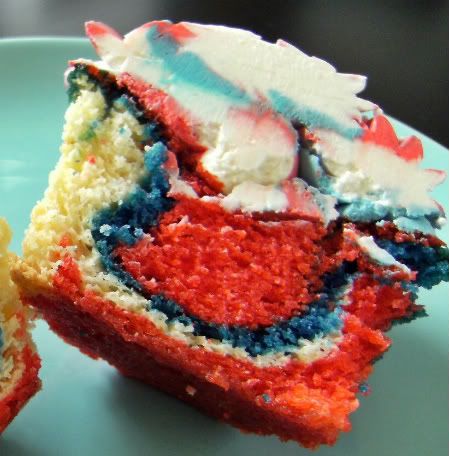 Two things that don't mix well: the blazing Texas heat and parades. We nearly melted!
Even the best seat in the house was hot!
It didn't take long for my toddler to realize that the water felt better on her head than in her mouth. It was really cute, until she pulled up her dress, scooted her panties over and started squirting water.
I couldn't blame her.
And the parade wouldn't be complete without a family picture in our color-coordinating clothes (in which I had to convince my hubby that it's perfectly acceptable to do this on Independence Day). 
Don't wipe your screen, turns out my camera lens was dirty and gave our two year old a Groucho Marx mustache.