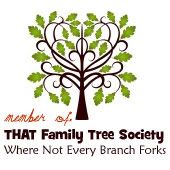 Picture of the Week:
Happy 7th Birthday, Dash!




The Week in Review: The other man in my life turns 7 today! Happy birthday, baby! You make me happy to be your Mom. P.S. I am going to beat you at bowling today!




Introduction into The Society: Let's welcome Crafts by Kate! (Please see her note to you at the bottom)!




1.    Tell us a little about your blog (name/reason why you blog): 

My blog is called 

Crafts By Katie

. It was originally started to have a place to show family/friends what I was doing craft-wise,  but quickly turned into someplace where I write about all sorts of topics. I talk about being  a college student, a single mom to 2 little boys, trying to live green and the challenge of a full course load of school while trying to pack for an out of state move. Each Sunday, I try to post a weekly  challenge and from time to time, I do give aways. 




2.    How long have you blogging? 




wow...I think I started my first blog/online journal way back in 1999. 





3.    How would you define THAT family?  




THAT family is the one that everyone is talking about long after they've left and long before they're invited again.





4.    When did you discover you were a part of THAT family? 




I think I discovered we were THAT family the night we took my two boys out to dinner and loud and clear, one of them said some swear word. He was little but I could just feel the stares of everyone around us and I realized, Yep, we're THAT family.

Leave me some comments! It can be lonely out here in blogland and it's good to know we're not alone in being one of THAT family!