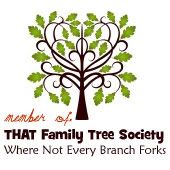 Pictures of the Week:
The Week in Review:
Our oldest got  a form of braces (to deal with a tongue thrusting problem) this week and so I took before and after pictures. My other kids wanted before pictures too. So, I snapped a 

before breakfast

 photo of my son and a 

before temper tantrum

 photo of  my toddler.
Introduction into The Society: Please help me welcome Team Kollar to the Family Tree this week!
1. Tell
us a little about your blog (name/reason why you blog):
My blog is titled Team Kollar…the thrill of victory and the agony of defeat in everyday life. It's called Team Kollar because when I started I didn't know enough to not put my name right out there to tempt identity thieves. The subtitle refers to the daily fluctuation I experience between joy and defeat as a mom. I started our blog to journal our international adoption, but it has become a way to process my life.
 2. How long have you blogging?
I started blogging in May of '08. Before that I was on the computer twice a week. That's changed just a little…  
3. How would you define THAT family?
THAT family doesn't get invited over to many homes for dinner. You hear them coming before you see them. And they leave a trail of Cheetos, laughter and ER bills behind them. They live in a perpetual state of chaos. They have a name for that chaos, they call it "fun". One great thing about THAT family is they are really no different in private than they are in public, which accounts for all the embarrassing moments. 
4.  When did you discover you were a part of THAT family?
It's hard to say. Maybe it was the stares from strangers in the grocery store. Or all the moms who would say to me when I told them about something my kids had said or done "Oh, that makes me feel so much better."  Could it have been when my son dictated a preschool paper about our family that said, "My mom likes to make macaroni and cheese. She talks on the phone. She likes to sleep a lot in the daytime"? One clue came when my child spit his quarter out of his mouth into the offering plate. Another clue, the time my toddler snapped a picture of me taking a shower. Add to all that the dog that greets visitors by nudging them in the crotch and I have undeniable evidence that we are THAT family. I should have known even before I had kids. The girl who snorts when she laughs and squirts in her pants when she laughs really hard was bound to have something interesting come from procreation. I am THAT mom so it's no wonder I am the matriarch of THAT family. 
5. Where can we find your blog?