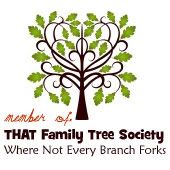 The Week in Review:

For the second Spring Break in a row we went to the Live Stock Show/Rodeo. Look how much my kids have grown in a year! Weird that the chicks are still the same size though.....




Introduction to The Society

:

Mommy Daily Vent! Check out

this post

she submitted. She is definitely a family member!




1.    Tell us a little about your blog (name/reason why you blo

g): 
My blog is Mommy Daily Vent.  I think it's pretty self explanatory, but any mom of 4 under the age of 10 has to have her venting moments, doesn't she.  I blog for release, but also to keep from feeling alone.  That sounds pathetic, doesn't it?  I have 3 in school and one at home and sometimes I need to feel connected with another adult besides a toddler who wants CHEESE!!!
2.    How long have you blogging?



A little over a year.  I love following other blogs too.  Tips and recipes are my favorite, but a good belly laugh never hurts either.
3.    How would you define THAT family? 
THAT family rolls with the punches, even if the punches sometimes throw you for a loop.  THAT family is also the one that everyone dreads seeing at the grocery store, because we take up a whole aisle and take 3 hours to get thru the store!!!!
4.    When did you discover you were a part
 of THAT family?
Maybe after child #3 was born.  Face it, you have to loosen your standards a bit and not be quite so on top of things when you have 3 children under the age of 5.  
5.    Where can we find your blog?