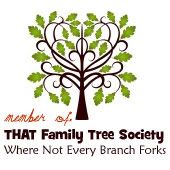 If you would like to be included in The Society, please copy the questions and email them to me. Please note: There is a 2-3 month waiting list. 
Disclaimer: Please note, I do not necessarily agree with the opinions expressed on the blogs linked to THAT Family Tree Society
Picture of the Week:
The Week in Review: We've had a setback in the war against the pacifier. Please pray for victory.
Introduction into The Society: I'm happy to welcome
Curvaliscious
! You gotta love that name!
1.  What is the name of your blog?
Curvaliscious :) Because, ya know, I am so curvy and luscious and all of that...


2. How long have been blogging?
Years. I am not even sure just how many years anymore. I think its close to 6 although 4 of those years was at another blog where I discussed my homeschooling, marriage etc. When I separated from the ex, I wanted another outlet and started Curvaliscious

3. How would you define THAT family?
For me, THAT family is the family that is weird just because they are and without apology. They adore each other and don't care who knows it. They walk to the beat of their own drum...

4. When did you discover you were a member of THAT family?
I don't know that I really discovered it but I am thinking that perhaps it was when I decided to add a black board in front of our toilet so that we could write notes to each other on it. Yeah.

5.  Where can we find your blog?

Please note: this blog is Rated R