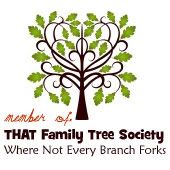 Picture of the Week:



The Week in Review: My kids entertained themselves in a tiny Doctor's office, while we waited on checkups. ::Charades:: six words, ____back of ____Dame (Disney movie). Sounds like: we aren't politically correct.




Introduction into The Society: Please, help me welcome Mom to 3: Raising Boys! 




1.    Tell us a little about your blog (name/reason why you blog): 

My blog is

momto3-raisingboys and I started it to write about what life with 3 boys can be like.  I enjoy reading other blogs and thought I should give it a try.



2.    How long have you blogging? 


I started blogging in the spring of 2008.



3.    How would you define THAT family?

 
THAT family is the one that everybody knows.  THAT family has a mom that can shoot her kids a look while still carrying on a conversation with someone.  

4.    When did you discover you were a part of THAT family?


When you have a son that tends to  get injured easily and you have friends say "What did he do now" when you ask for prayers for him.   And when you can blog about NERF accidents too.



5.    Where can we find your blog?