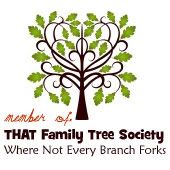 The Week in Review:

Yes, we are a pizza-loving family. It's our most served and eaten meal (just because it's served doesn't always mean it's eaten. Think on that nugget for awhile). We recently ordered this party pizza for a little get together. It was the size of our table!




Introduction into The Society: Sandra of Celebrate Every Day is the newest branch on The Family Tree. She submitted this post as proof-positive of her THAT family moment.




1.    Tell us a little about your blog (name/reason why you blog):
I blog at "Celebrate Every Day" which comes from the idea that each day is different than the day before and should be celebrated! Our blog started out as a family blog to keep the far-away family members up to date on our lives. But as readership grew (by grew, I mean more than just family and close friends), I began doing fewer "TMI" posts and more on preschool activities, life in ministry, and the highlights of our lives.  
2.    How long have you blogging? 
I've been blogging at this site for one year.
3.    How would you define THAT family?  
You know THAT family when they are headed your way, and when they have left the area. I grew up in Oklahoma, tornado alley. And even though we now live in Pennsylvania, I still feel like I'm in tornado alley!  
4.    When did you discover you were a part of THAT family? 
I'm my opinion, most families who consider themselves "THAT" family have at least one boy. When my second son was born I knew life would be an adventure each and every day. Plus, my husband is a pastor. So we have more eyes on us than the usual family.  
5.    Where can we find your blog?