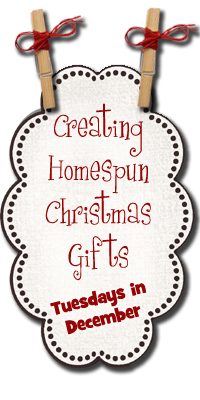 If you've waited until the last minute to finish up your Christmas shopping or you forgot about Great Aunt Edna, Homespun Christmas Gifts are still a great choice. 
Here are a few gifts that are easy to put together, but still show your thoughtful, albeit, tardy heart:
Don't forget the best gift you can give to those you love: you.  Your time and attention are valuable to those you love. Create a coupon book, like this one.  Or make a commitment to a loved one to write more, be healthier, complain less. Sometimes we spent oodles of money and countless hours shopping, when all our family wants is time.  With you.
We tackled many of our teacher gifts in our kitchen. It was also part of our Advent Calendar, so I multi-tasked and got my kids involved.  If you don't have time to bake, buy something like chocolate covered cherries and create your own unique gift wrapping with scrapbook paper and small jewelry boxes:
I've been buying mason jars for the past few months. (I found them at Hobby Lobby for less than $1 each). I grabbed some leftover Christmas scrap booking paper from my stash, bought some tags from the craft store and festive wax baking paper.
I cut circles for the mason jar lid:
And I cut the wax baking paper in circles:
Used cookie mix from a box (shoot me) and added Andes Mint Chips to give them a gourmet flare:
I used ribbon to tie the tag around the neck of the jar, layered gooey cookies and baking paper to create this:
I found these fun felt gift bags at The Dollar Spot at Target and slipped the jar into them:
The gift of sentimentality 
My favorite gift to give and receive is the thoughtful kind. I love invoking special feelings of love and remembrance. Photographs, memory books, and letters are such special gifts. They have lost their place of priority in our busy electronic world. If you want to really bless someone in your life, give a sentimental gift. It's always a winner!
I discovered this amazing site in search of Advent activities for my. calendar. Boy, was it a hit! And it's entirely free...you just need household supplies like paper, paperclips and a printer (color is even better). It's called
The ToyMaker
.  If you need a last minute gift, fire up your printer and print a slew of activities. The best gifts don't always cost money!
My kids spent HOURS playing with their
whirleycopter
. And over the Christmas break, my kids have an extensive list of things to print.
Of course, they had the perfect target: