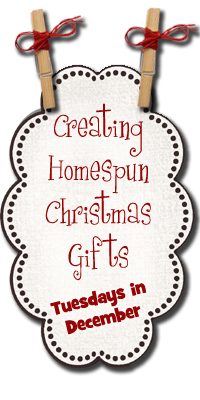 I'm excited to share a couple more creative and easy Homespun Christmas Gifts with you today. These are also very inexpensive! 
Personalized gifts are the best! I love using names or sending special messages to the ones I love.
Idea #1
Personalized Family Trees
You will need the following: 
artist canvas from craft store (You can use any size, but I used 8x8 canvases from Hobby Lobby, 2 come in a package and the set cost around $5). 
Craft paint 
Paint brush
Leaf-shaped stickers 
Thin point Sharpee marker
Frame the size of canvas (I bought document frames, much cheaper and sold in this square size).
Before I even begin, let me say that YOU CAN DO THIS. I am not an artist. I am not a painter.
I
am a thief of good ideas
. I got this idea when I saw a whimsical clip art tree and just did something similar. Or you can use a
tree stencil like this.
Draw a tree onto the canvas with a pencil. Paint over it with black paint.
I wanted to make a tree for each side of my family, so I did another variety of tree (I think this one was a little easier).
Let the canvas dry. You will probably have to go over branches a couple of times. My limbs kept growing with my fine painting skills!
I found these cute leaf-shaped stickers in the craft section of WalMart, from The Martha Stewart line. I love this stuff.  And who knew Martha shopped at Wal Mart?
I wrote the names of family members with a Sharpee on the leaf stickers and placed them on the branches:
I painted our family name on the corner too.
I put it in the frame (if you buy the size of the canvas, it doesn't need a mat) and stuck it on an 
easel!
For the other part of the family, I made leaves out of green paper (felt would be cool too) and I put the leaves on raised stickers to make them look dimensional.  Here's how it looks in a frame:
Idea #2   A Personalized Christmas Message
I saw this idea in a GooberPatch Christmas book I have.  I thought it was such a frugal and simple idea, I decided to give it a try and I love it!  I think it will make a great gift and it cost less than $5 to make!
You will need: a hinged frame, either 4x6 or 5x7. (I found plastic ones and they worked great.) An ornament, a Christmas card with a thoughtful expression or pretty Christmas scrap paper and some buttons.  And hot glue.  
Most of the items, I found at The Dollar Store (
God bless the $ store!)
Take the glass and backing off the frames. Insert the Christmas card into one of the openings (I had to cut mine down). Leave the glass out, you can replace the back of this one side.  
You can also personalize this even more by printing a message or poem on pretty paper instead of using a card.  I like it easy, plus I'm out of ink.
Next, take your yummy ornament and hot glue the string it hangs from to the inside of the other framed opening:
I took part of the message from my card and glued it to the back:
I added some cute gold buttons and look at this little gift:
The possibilities are endless-different colored frames, ornaments, cards, scrapbooking paper....
Cute, huh?