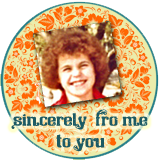 My weekly carnival is here!  Thanks for joining
Sincerely 'Fro Me to You!
Feel free to link up photos that you won't get around to scrap booking! Also, please note:  We will be putting the 'Fro on hold the week of Thanksgiving.
Now, down to business.
A letter I have been putting off for too long:
Dear Mr. Lego Man,
I ran across this picture the other day and I felt a pang of guilt. I should have apologized years ago for my inappropriate behavior. Time has not eased my seared conscience. And I'd like to make things right.
I am sorry for sliding my hand to your inner thigh when my daughter and I stopped for a quick rest on the bench. After such an exhausting day at Disney World, I was obviously not thinking clearly and  I have regretted my impulsive action for a long time.
Please forgive me.
THAT Mom.
Mr. Linky is having a BAD day again, so
leave your links in the comments
if it's not working for you! He disappeared with your links overnight!  Sorry, y'all.