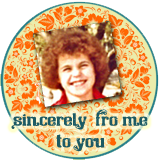 Hello! Welcome to the circus. I mean,
Sincerely 'Fro Me to You
! I'm glad you guys are with me. I'd hate to be alone, posting these pictures!
I know this may come as a complete shock to you, but I'm going to admit something today.
Something profound.
We have always been clowns. 
Yes, it's true. THAT family would fit in well at the circus. 
Just look.
We're naturals
:
And this one will probably cost me. Because I'm pretty sure my hubby will get me for posting this next photo:
And his professional name? 
Wonder if he'll get mad if I start calling him that?