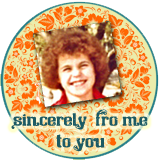 Welcome to the first themed edition of Sincerely 'Fro Me to You! {You can read the nitty gritty
carnival details here
}.
I thought it would be fun to share our scary pictures this week.
Now, if you didn't post a scary picture, it's okay. I'm pretty flexible and I don't always follow all the rules exactly, you can still link up.
But be forewarned: If you link a picture of your mother-in-law, someone might
call her scary
in the comments.
Which could pose a problem for you and the hubby.
I'm just saying.
As I dug thru my organized (I use that term loosely) box o pictures, I decided to go with a grouping of pictures that made me very afraid. I had some costumed shots, but they just made my laugh. These following shots made me want to RUN & HIDE. And that felt right, for some strange reason!
It's very scary, so prepare:  the Engagement Photo Shoot
"Look Mom, I'm marrying a druggie!" 
"Or is something just wrong with her eye?"
"Whatever it is, it's obviously contagious!"
See what I mean?
We aren't exactly photogenic. We look like certified drunks in plaid and a sweater vest.
I think out of twenty shots, we got one where all four eyes were open.
A little story behind this photo shoot:  My future-hubby-to-be and I had a long distance relationship.  I was teaching school and he was working on his Master's degree. 
We got engaged on Sept 16 (about two hours after he got into town to see me).
These photos were taken on Sept 17 (the very next day).
Because my Mom had a hunch and made the appointment before we got engaged.  
Too bad she didn't buy us coordinating outfits.  
We married December 17 (just 3 short months later during my school break).
Scary, huh?