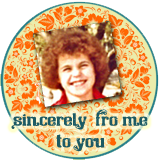 Welcome to Sincerely 'Fro Me to You! (
carnival details
) Before I share my flashback, I want to invite you all to participate next week in the first THEMED 'Fro Me to You.  Dig out your SCARIEST photos to link up next Thursday!! You can share costumes photos or scary junior high pictures or scary....
Our baby one year ago in the patch: You don't have to orange to be a pumpkin.
Last week, one year later and in the same pumpkin patch, look how big she's grown!  Good soil or something...
You want to read something classic?  I had these adorable fall cards made at Wal Mart last year to send out to friends and family so they could celebrate our baby's first autumn.
Well, guess who forgot all about them?
Yeah, I just picked these up, nearly a year late. 
Because I'm that organized.
Maybe I should send them out anyway and scribble across the top, "falling behind!"