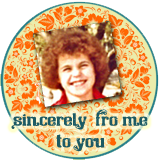 It's that time of the week again! Welcome to
Sincerely 'Fro Me to You
.  Are  you tired of this carnival yet?  I hope not. Just when I think my picture barrel is running low, the old digital albums,
they do provide
.
I love fall. It's my favorite time of year.  I love the harvest colors found in nature. I love the falling leaves and acorns and the bright orange pumpkins that adorn our world.  I love the crisp, cool weather---
Wow. I really got caught up there for a minute and then remembered, I live in Texas!  We've had a crisp morning or two.  But by noon, they are long gone. We're back up to hot. Plain, old, hot. 
I've decided that fall is such a tease.
I'm tricked into it every year.  I decorate the day after Labor Day and try to induce a fall mood. Every store in town is peppered with gourds and pumpkins, Halloween costumes and even Christmas decor, which I find very irritating by the way.  Stop rushing me, k?
I stumbled upon this photo the other day and it took me back to one of the first day's of fall, last year.  
It was mid-November.
 I'm telling y'all, Texans play pretend fall for months!
My sweet son is wearing a knit hat I brought him from Washington DC, where I met my precious new niece.
I picked up a couple of knitted items from a little Russian lady at an open market.  She was in her 80's and her disfigured fingers still aptly worked the needle.   Who knew
my fondness for Russians
would explode?
On this day, I took dozens of pictures of my children.  I kept this one for one reason:  the snot slipping from my son's nose. 
Don't ask me why.  (I'll tell you anyway, I know it's cool outside when that boy's nose begins to run! His nose knows).
I think he's beautiful, don't you?
So, c'mon fall, surprise us this year.