*UPDATE* Congratulations to Sarah!  She won the book, but make sure you check back for the next couple of weeks where I'll be sharing more parenting tips and giving away more great resources!  And go visit Family Matters, you won't regret it!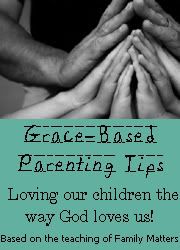 Our summer vacation was unusual for us this year.
Family Camp
is a new concept for THAT family.
So is sitting in a classroom setting for an hour a day, while on vacation.
But I've never been happier to be a student.
We had an amazing guest speaker/author: Dr. Tim Kimmel, President of
Family Matters
.
His specialty: Parenting. Specifically,
Grace-based
parenting.
The basic premise for this teaching is loving your kids the way God loves you.


It was profound. My hubby and I learned so much.


Dr. Kimmel started the series off by asking, "Do you have a parenting plan? Can you write it down?"


Gulp.


Not exactly. Sure, we have a five year financial plan. We've talked about our goals as a family and accomplishing our own personal dreams. But a plan to parent our kids? The job that we hold most dear? Nope.


Unless flying by the seat of your pants is considered a technique.
Start from the bottom up, building on a foundation:
Aim them at true greatness, rather than success
Build character in their heart
Focus on meeting their inner needs
Maintain a daily atmosphere of grace
Establish a foundation of faith in Christ.
(His books expound on each of these parts of the grace-based parenting plan).
This book is a must read for Christian parents! I'm giving away a copy today ($14 value), just leave a comment if you're interested and I'll be randomly choosing a winner tonight (Wednesday at 10 p.m CST). You can order one
here
.
Each week for the next month or so, I will be offering a Grace-Based Parenting Tip from one of Dr. Kimmel's many books or something I've learned. (I'll also be giving away one of the resources that Family Matter's donated for me to giveaway).


Towards the end of the week of Family Camp, we sat down to eat lunch. Dr. Kimmel, his wife and two grand daughters (that they brought along to give their daughter some time alone with her hubby!) sat down at our table for lunch.


I nearly had a panic attack.
Lunch with THAT family is always an adventure. Drinks are spilled (my hubby tries, but he's a bit clumsy); food is splattered; and the toddler? She doesn't exactly excel at staying in her high chair.


We made light conversation and I ate so quickly, I had bread stuck in the back of my throat.
I'm pretty sure God was watching that day, because do you know what my kids did?


Nothing. They were perfect. And that's no small feat.
But even if it had been a disaster, there's something special about
grace
that says, "Hey, it's okay. God loves messy people."
Proverbs 22:6, "Train up a child in the way he should go and when he is old, he will not depart from it."