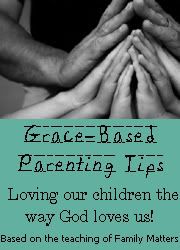 *UPDATED* Congratulations to
Ami
!  She won the book.  Come back next week for another Grace-Based Giveaway!
I want the best for my kids.
I want them to have a great childhood, a good education, Godly character traits and a bright future.
I want them to pluck the black hairs from my chin when I'm decrepit be successful in life. 
Through the
Grace-Based parenting resources
, I've learned that aiming my children at a future focused on success isn't the same at aiming them at
true greatness
.
Doesn't the phrase
true greatness
just make something deep within you stand up and say, "YES! That's it! That's what I want for my kids!"
The world defines success by these measurements:  wealth, beauty, power and fame.
Okay.  Suddenly, I'm not feeling so successful. 
In Dr. Kimmel's book, Raising Kids for True Greatness, he defines
true greatness
as "a passionate love for Jesus Christ that shows itself in an unquenchable love and concern for others." Directing them towards true greatness helps to focus them upward and outward, rather than inward.
Aiming children at success complicates their lives and contributes to self-absorption. 
How many self absorbed grown up children (a.k.a adults) do we know?
Dr. Kimmel teaches that true greatness is easier to achieve by building four qualities in a child's heart:
A Humble Heart-a reverence for God and respect for others.
This is the last thing our culture is teaching our children. We can't leave this up to the school system or even the church.  It's our responsibility as parents to teach our kids how to respect others and revere God.  
What does a humble heart look like?  We are working on developing this in our home: a mutual respect for each other's ideas and thoughts (as in the oldest child dismissing everything the younger siblings say). I think our kids take cues from us..they are always watching.
A Grateful Heart-An appreciation for what they have been given and Who has given it

.
I think complaining and grumbling is the direct result of an ungrateful heart.  We all know how it feels for our children to act unthankful!
A friend of mine shared this idea with me: create a 'blessing box' and jot down a small note EVERY time a blessing comes your way, from little things like finding a $1 on the sidewalk to big stuff like Dad finding a new job. I think this will teach my kids just how many blessings we have. During Thanksgiving, open the box and read the blessings. I'll show you our box after we finish making it!
A Generous Heart-A great delight in sharing with others what God has entrusted in you.
Perhaps this is the one quality that we have really hammered home. We have had so many opportunities to give lately (Russian friends from
The Persecuted Church
) that I have planned a special day on my blog to encourage others to give:  
One Day to Gi
ve
.  God has given us so much and we are learning that not only is it fun to give to others, it feels awesome!  
We wanted to take it a step further and teach our children on their level.  We took 3 plastic boxes and had them decorate them with stickers: Spending, Giving, Saving. Every dollar that comes their way, they take a percentage and place it in each box. It has really taught them the value of money and they are having fun watching their pennies grow!
A Servant Heart-A willingness to take action in order to help someone else.
On Labor Day, I was very proud of my kids and hubby. They took this principal to heart and spent several hours collecting trash at the pond near our house.  No one noticed or said thank you, but I knew they really 'got it' because they weren't looking for praise.
But I also think this is the weakest area in our home. We are all selfish by nature and it's easy to slip into the habit of taking care of ourselves first. I think it's easier for them to serve a stranger than their siblings. So, we're working on it!

When my last child leaves home, I want to be able to hold my hubby's hand and look into the mirror and know that we've raised truly great kids.
And then it won't matter if the world calls them a success.
Because they will be.
If you would like this amazing book, Raising Kids for True Greatness, leave me a comment by Thursday noon (CST).
Family Matters
has been kind enough to donate one!