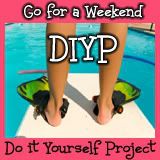 I saw this idea in the summer edition of Better Homes & Garden 100 DIY Projects.
And I thought, "Well, well, well, chalkboard paint isn't just for kids, is it?"
Here's my new favorite thing:
Take an ornate frame (mine is from Ikea and it's actually plastic, shhhh, don't tell):
And rough up the glass on the frame with some course sandpaper (just enough to leave it scratched up a bit).
Take your chalkboard paint and coat the glass after wiping it off. (Or you can buy chalk board spray paint for plastic).
Let it dry and hang it.
Mine is the perfect display for some Bible versus we're trying to memorize as a family:
If that doesn't make you feel all warm and tingly,
I don't know what will
!