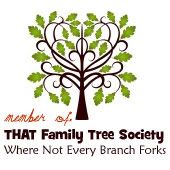 THAT family photo of the week:
The prevalent thought of the week was, "

why can't Daddy stay home and you go to work?

"
The Week in Review:
Well. Can I just say it's been a long week?  I think once I uttered the words "I'm ready for school to start," it went downhill. We only had two minor accidents: one involved a scalpel, a little boy's thumb, and a microscope slide.  Did you guys know blood looks cool under the lens? And the other? I was painfully reminded in Kohl's why my oldest is still too young to push the cart.  I have a bloody heel to prove it.
And now, I'm happy to introduce you to Alicia of My Life as a Mother, Wife, and Woman.  Welcome to this happy society of misfits moms. She offers her first experience with poison control as her THAT family post!
1. Tell us a little about you/your blog:
The name of my blog is "My Life as a Mother, Wife, and Woman." My blog is basically an outlet for me and is also used to keep distant family and friends updated. 
2. How long have you been blogging?
I've been blogging for a year now. 
3. What is your definition of THAT family?
My definition of THAT family is....well, THAT family. The one that is always filled with chaos and oftentimes disorder. And if something unlucky or unfortunate is going to happen, it's going to happen to THAT family. 
4. When did you discover you were a part of THAT family?
I discovered I was a part of THAT family the day I was feeding one baby and rocking another one to sleep with my foot while supper was burning on the stove. Or maybe it was the day I went to work and once there I realized that I had forgotten to brush my hair and still had on my pajama top. Or maybe it was the day I stared at my daughter for what seemed like hours, desperately trying to remember her name. Because you know there are so many of them. Then there was that week when I lost my purse, cell phone, keys and wallet 7 times--in one week.



5. Where can we find your blog?
You can find my blog at www.mylifeasamotherwifeandwoman.blogspot.com