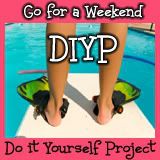 I'm so excited about today's DIYP! I saw this idea about six months ago in the 2007 Winter Issue of Better Homes and Gardens.

And I've been saving it for a special occasion.
One of my favorite things to decorate with is photos. I love old family heirloom pictures and recent black and white photographs of my kids.
I also have a plate fetish and love my small collection of t

oile plates.
This project incorporates both photos and plates to form something picture perfect.
Last night, I gave my DIY project to my Mom for her birthday. I loved it so much, I'm going to make some to keep.
1. Choose a plate. I chose a white/off-white theme for a classic look for my mom. (I did a photo plate collection of my mom's grandchildren. I didn't pay more than $4 a plate since I shopped the clearance tables).
2. Enlarge photo. I increased mine to an 8x10 and printed them (Walgreens) in black and white. (I think any snapshot would be lovely, I decided to do portraits. A wedding photo or birthday picture would be a great idea for an anniversary gift or birthday present)

.
3. With a pencil and a compass set to half the diameter of the plate's center area, make a circle on a piece of copy paper.
5. Use this as a guide to place on the photo and cut the picture into a circle.
6. Adhere the photo to the plate with double-sided tape.
7. Display plate with a plate stand (Walmart, $3.50)
Total Cost of one photo plate: less than $10
I thought my mom would enjoy a collection of plates featuring her grandchildren.
By the way, she loved them. They brought tears to her eyes. Happy 60th, Mom!
Don't forget to check out the awesome giveaway going on RIGHT NOW!  Wouldn't you like to win this? Or a custom one? Go, now, it ends tonight!