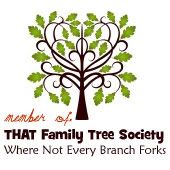 The Week in Review:
Our first week of summer went well! We had lazy days, went swimming and I only had to visit this list twice. My baking neighbor sent her son over with this very important and confidential bag. It contained one of her cookie mistakes.

Her mistakes are delicious.
Introduction into The Society: Help me welcome Steady Mom! She has some great ideas!
1.  What is the name of your blog?



My blog is 
s
teadymom.com
. My tagline is "Join me on the journey toward intentional, professional motherhood." It chronicles my attempts, successes, and failures as I walk life's road with my three preschoolers. I try to approach my mothering with the same sense of purpose and vision I had in my life and career before 
becoming a mother
.



2. How long have been blogging?



I started my blog in December 2008. I'm still finding my blog groove and discovering new parts of myself as I write out my issues.



3. How would you define THAT family?



THAT family knows who they are. They live in freedom - free to be themselves, free to follow their passions, free to make a difference in radical ways. They make no apologies for living as though each day might be their last.



4. When did you discover you were a member of THAT family?



I knew it the first time I visited our local library's storytime. The other children calmly sat in their mothers' laps, listening to the monotone story being read by the librarian. But my two 2-year-old boys (no, not twins) scrambled, scuttled, and tumbled wildly across the room. At first I felt embarrassed but upon further reflection I thought, "Good for you, boys. That was dull." We return often to check out books and they love the library, but storytime is no longer on our itinerary.



5.  Where can we find your blog?



I'd love to have you visit at www.steadymom.com  Thanks so much.